WIRELESS HEADPHONE AMPLIFIER (white)
Made in

Taiwan
Key Features
CLIP-Wireless Headphone Amplifier
WIRELESS HEADPHONE AMPLIFIER
Lossless conversion of any audiophile headphones for wireless use with your smart phone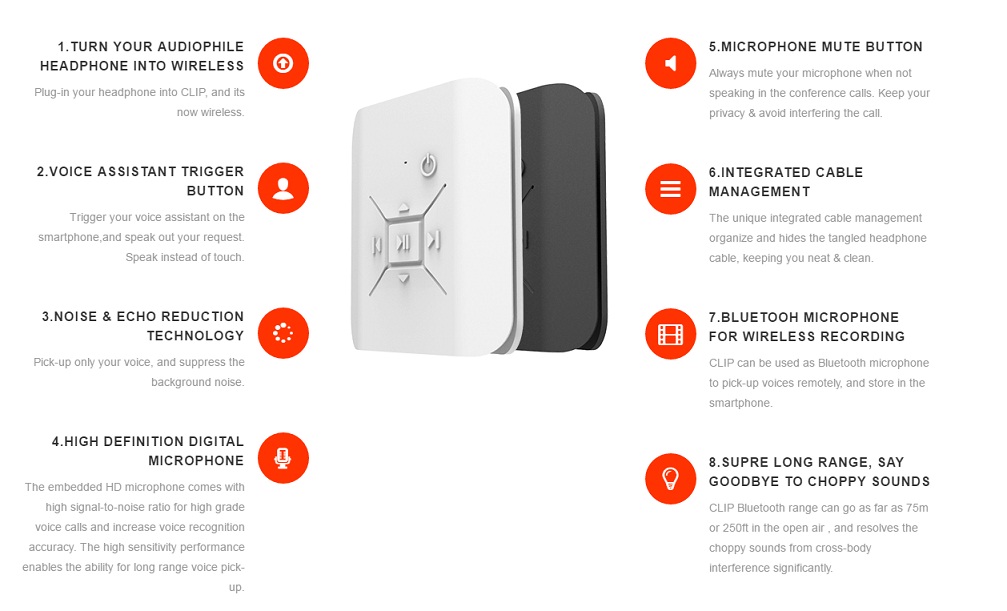 Turn your audiophile headphone into wireless with CLIP
CLIP is designed to turn any wires headphones with standard 3.5mm plug into wireless without compromising audio quality, giving you the flexibility to choose your preferred audiophile headphones and turn it wireless.
Authentic sound quality, in wireless
CLIP preserves the authenticity of sound using an advanced audio rebuild technology we call "Sound Revitalization Technology (SRT)" . Instead of the traditional low quality audio compression SBC technology, CLIP supports AAC & MP3 to minimize distortion when sound is compressed for streaming over the air. Our unique patent pending "Sound Revitalization Technology, SRT" scans the received audio data, and rebuilds the distorted audio.
SUPER LONG BLUETOOTH RANGE, MORE FREEDOM
By optimizing the circuit design,CLIP can boost the Bluetooth range to 75m or 250ft in the open air, seven times longer than most of the Bluetooth devices. This super long range design give better freedom to move around both indoor and outdoor.
NO MORE CHOPPY SOUNDS FROM CROSS-BODY INTERFERENCE
when placing smartphone and Bluetooth receiver in two difference side of the human body, Bluetooth signal may be degraded or temporary blocked by the human body as it acts as a huge resistance. This will result a bad reception at the Bluetooth receiver, and sound may become choppy when used.
TUNAI's engineering team has also put a lot of effort to give the best user experience, and greatly minimize the choppy sounds caused by "cross-body interference"
Control your phone with voice, not hand
No longer need to take out your smartphone from pocket/bags when making a call, checking for traffic or other information. With CLIP, simply press to trigger the voice assistant on the smartphone and speak out your request. Making your life easier.
INTEGRATED CABLE MANAGEMENT, NEAT AND CLEAN
CLIP comes with an integrated cable management to hide your long and tangled headphone cables. Wrap the long headphone cable along the tunnel until you feel comfortable to use.
Bluetooth microphone for wireless recording
CLIP can also be used as Bluetooth microphone for classes, seminar, interview or conference calls.The embedded high definition microphone can pick-up voices at 7m or 23ft away at indoor environment clearly. Combining with the super long Bluetooth range capability and noise reduction technology, CLIP is an excellent Bluetooth microphone choice students, journalists, business man, travelers and YouTubers.
Mini Conference System
CLIP can be used as a mini conference system when attached to the speaker. The high sensitivity microphone helps to pick-up everyone's voice in the room, and the acoustic echo cancellation (AEC) technology ensures the clear call quality.
High grade voice call quality with noise reduction technology
To improve the voice call experience, CLIP has also adopted the noise reduction technology to suppress the background noise. Your recipient will be hearing your voice clearly with background noise being suppressed.
Microphone mute button, protecting your privacy
A microphone mute button is also available to mute microphone during phone calls, especially when you are in conference calls.
CLIP-WIRELESS HEADPHONE AMPLIFIER
Turn your audiophile headphone into wireless
CLIP SPECIFICATION
Bluetooth 4.0
High definition microphone (61dB SNR, -26dBFS)
Microphone mute button
Noise reduction & acoustic echo cancellation technology
Voice assistant trigger button
(SiRiTM, S-VoiceTM, Google NowTM)
8hours continuous playback
Build-in cable management
IPX4 compatible splash proof
75m or 250ft Bluetooth range (Open Air)
Support AAC, MP3, SBC
Support A2DP v1.2, AVRCP v1.4, HFP v1.6
Size : 50mm x 45mm x 12mm or 1.97in x 1.77in x 0.47in
Storage temperature : -20oC ~80oC or -4oF~176oF
Patent pending sound revitalization technology